Perfect Place for Women to Hide a Cellphone
Scarf, handbag or call this thing a purse, but you can wear it and of course hide anything — from a couple of phones to money and credit cards, this thing is a must-have for any and every woman.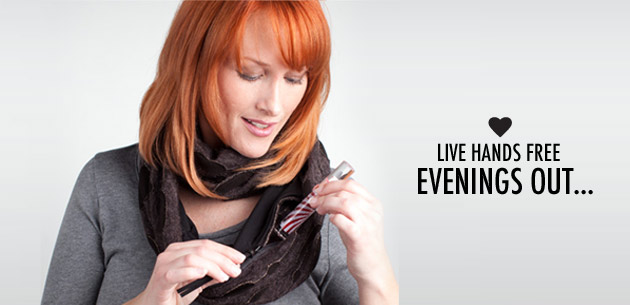 A Scarf Can Stop you from Losing your cellphone
Lugging a purse around and putting the phone in our pocket didn't seem like an ideal solution — we deal with it everyday. After losing a phone, Angela Lee realized she needed something new for ladies that can protect their phones, and thus Sholdit was born.
Here are a couple of variants of this amazing scarf:
From the words of Angela Lee, the person behind Sholdit:
Being a fast paced woman, always on the go, I grew tired of carrying a traditional bag. I soon realized I wasn't the only one. I kept hearing about the same frustrations from others of lugging a heavy purse, the strap cutting into the shoulder causing neck and back strain, having to dig around forever trying to find something, the constant worry of leaving it behind or fear of it hanging on a chair back for someone to swipe or dig in while not paying attention. Also, every woman will cringe at the thought of setting it on the floor only to get dirty, wet, or sticky and whatever else stuck to it.
The idea for a new style of purse struck me after two particularly frustrating events: almost losing my passport in the airport and then actually losing my cell phone at a sporting event because I didn't want to carry a bag all day. I thought, "There has got to be a better, more fashionable way!" Then I thought, "I love the look and feel of a scarf, the security of across the body bags, and the simplicity of a clutch.
Why not incorporate everything to create an entirely new and different style of purse!" It solves so many problems and frustrations including: making one limited to carrying only the necessities, giving hands free movement with out the strain, keeping valuables secure, and it's a fashion piece! It may also be draped around the neck just like a traditional scarf and has the added value of converting back into a clutch when desired.
Each scarf is available for $79, and while you can keep as many things as you want (or even use spy equipments or mobile spying apps) you may want to make sure your shoulders are strong enough to take the weight.